Configuring the SFDC Application in Eloqua
1.Login to Eloqua
2. Create a new Multi-Step Campaign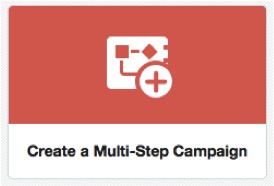 3. Open a blank campaign
4. Drag and drop a 'Segment Members' step into the campaign canvas
5. Double click within the Segment Members step and choose the segment of contacts to be sent to Salesforce
6. Click the arrow next to 'Campaign Steps' on the left of the page to collapse all available campaign steps
7. Drag the 'Eloqua to Salesforce' application onto the campaign canvas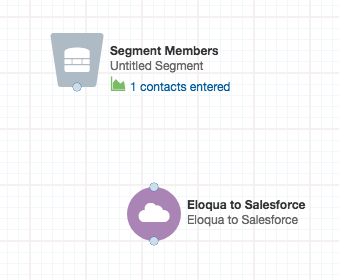 8. Double click the Eloqua to Salesforce step on the campaign canvas and click the pencil icon on the pop window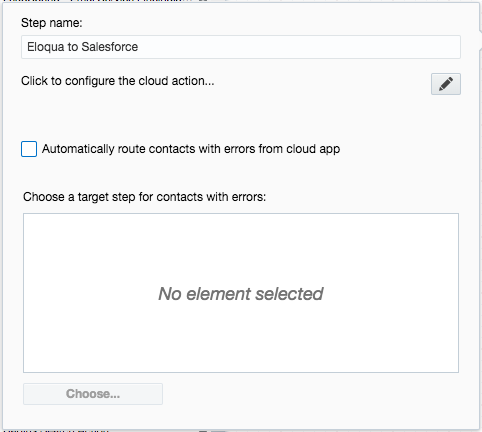 The login page for the Incindio platform will appear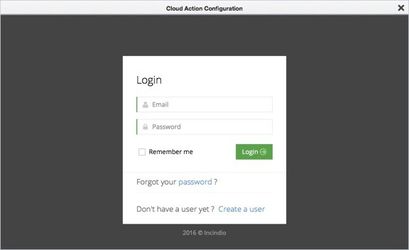 9. Login using Incindio platform credentials. Once you're logged in, the user will be taken to the first page of the Eloqua to Salesforce app configuration screen
10. The 'Load' button at the top of the configuration gives the ability to pull data from a configuration that has already been created. To copy data from a current configuration, click the 'Load' button and select the configuration to reference- the data will automatically populate into the current configuration
11. When creating a new configuration, name the configuration in the 'Description' field - this field is used for reporting purposes to help easily identify/locate specific records
12. Then select whether the app will  create new Salesforce contacts, or just update fields for current Salesforce contacts
13. Next, select the Eloqua & Salesforce credentials in the following dropdown menus (these dropdowns are pulling from the Platform Accounts created in Incindio)
14. Click 'Next' to go to the next page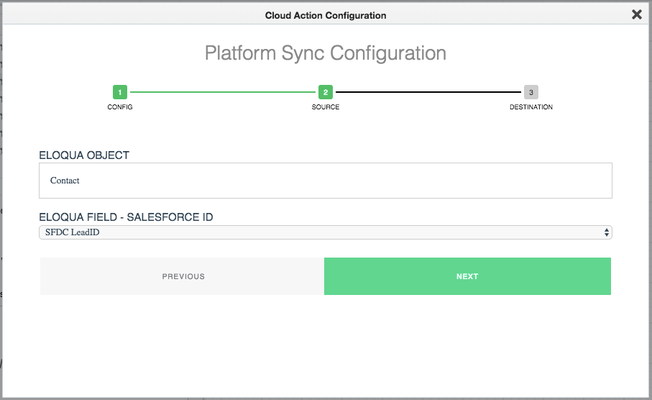 15. Select the Eloqua contact field from the dropdown that contains the Salesforce ID, then click 'Next'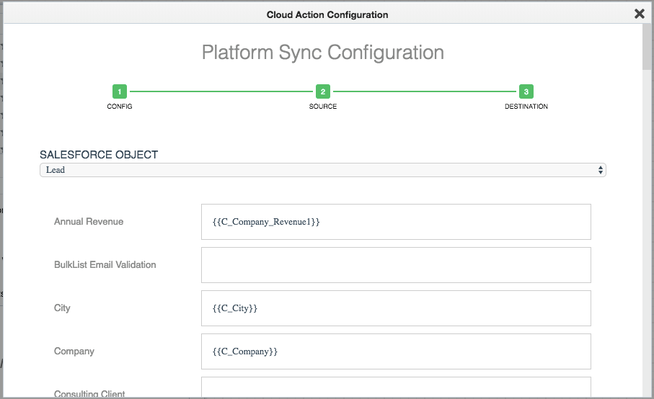 16. On the last page select the Salesforce object where the app will upload data
17. The fields within that object will populate below the dropdown. When clicking in the text box for each field, select the Eloqua contact field(s)  to pull data from. The user may add a line break by selecting 'Line Break', or add a timestamp by selecting 'Timestamp (UTC)'. 

In the example below,  the following tokens for the Salesforce 'City' field: City, Line Break, and Timestamp have been added.

Once this configuration has processed, the 'City' field in Salesforce would show:
"McKinney
2016-02-25 15:59:59"
18. Once the information to be transferred into each field has been designated, click the 'Test' button on the bottom of the page to test an individual contact. Just enter the Eloqua email address of a contact and click 'OK'
19. After the configuration setup is complete, click the 'Submit' button on the last page. A green 'Success' message confirms the configuration has been saved
20. Connect the 'Segment Members' step and the 'Eloqua to Salesforce' step, activate the campaign, and as contacts drop into the Eloqua to Salesforce step the application will begin processing