Table of Contents
Command Dashboard
The Command Dashboard sits on top of your existing marketing database providing key insights at a segment-by-segment level as well as on the complete database.

The first section of reports will provide three health metrics for both Contact Records and Company records. Reports relating to Contact records will be denoted using the

icon. Company/Account reports will display the

icon.
Additionally, Command displays a trendline detailing the change in these metrics over time.
Contacts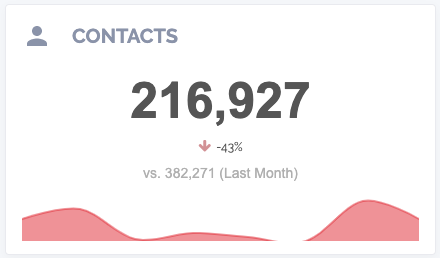 The Contacts module displays the current number of unique contacts in the selected data segment. This is determined by the unique identifier as defined by the Marketing Automation Platform or CRM.
Marketability Score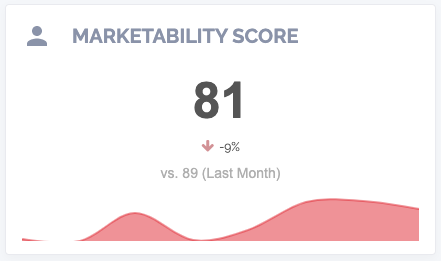 Marketability Score is assigned based on the overall completeness of communication channels per contact/company. This is intended to show how well the user can reach the existing database through multi-channel efforts.
Key drivers of Marketability Score include:
Email
Address
Phone
Mobile
Quality Score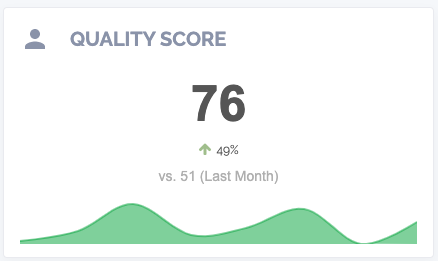 Quality Score is powered by Sureshot's Data Validation applications. Once these services are activated, Command will track and score the overall validity of the users marketing data.
Key drivers of Quality Score include:
Valid Contact Data
Invalid Contact Data
Unknown/unverified contact data
Opt-Outs
Sureshot currently offers Phone, Email, and Address Validation Services. For more information on adding validation to your instance of Command please contact your Client Success Manger or vist https://sureshot.io/data-enrichment/
Sources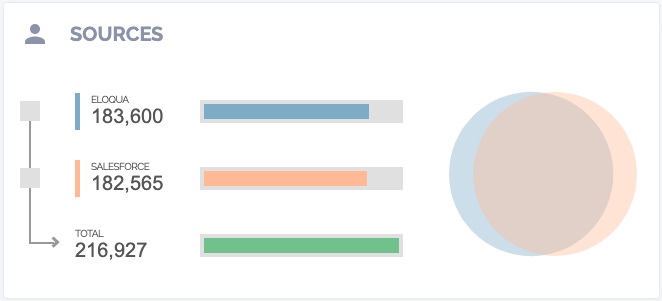 The Sources module will display the number of unique contacts for each data source connected to Command.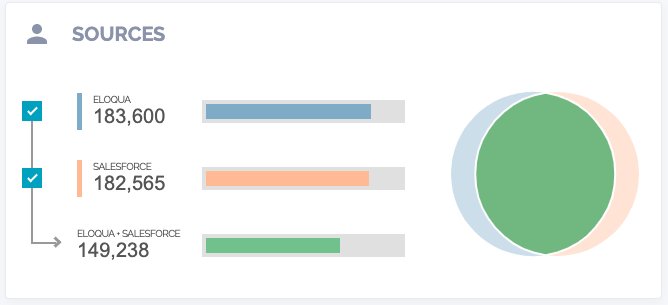 Selecting multiple sources will allow the user to see the total number of shared unique contacts across each connected source.
Marketability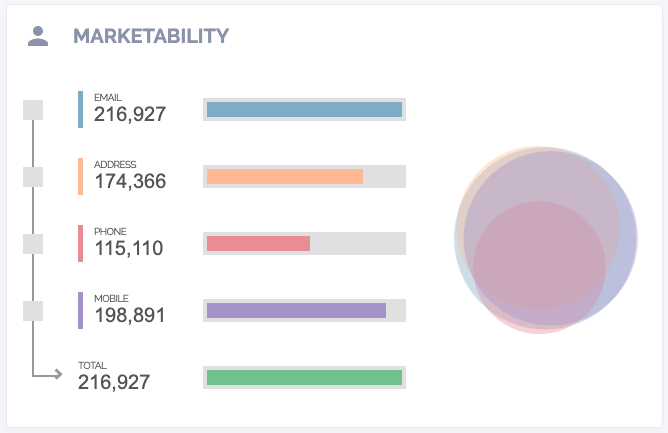 Marketability displays the number of contacts with existing data for each communication channel.

Selecting multiple channels allows the user to view the number of records with data existing for all selected channels. In this example, 115,110 Contacts exist that have both an email address and a phone number.
The Marketability data tile provides a break down of the fields used to calculate Marketability Score.
Quality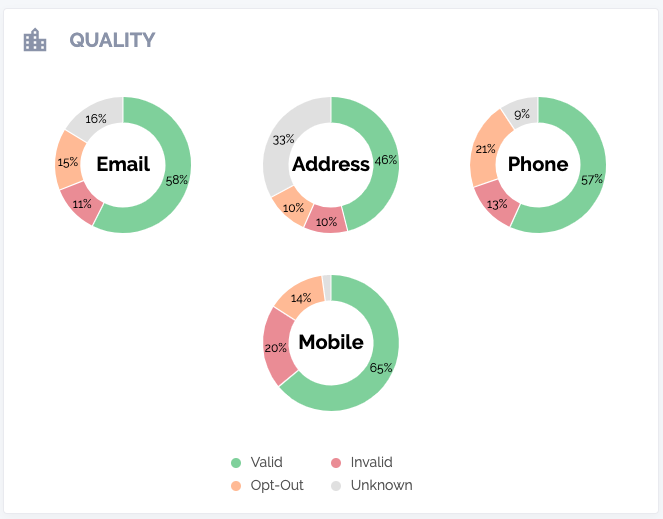 The Quality module provides a detailed breakdown of data quality by communication channel.
Valid - Data field has been validated and verified by Sureshot data services
Invalid - Data field has been validated by Sureshot data services and returned false
Opt-Out -Company has opted out of this communication channel
Unknown - Data has not been validated by Sureshot data services
Data Completion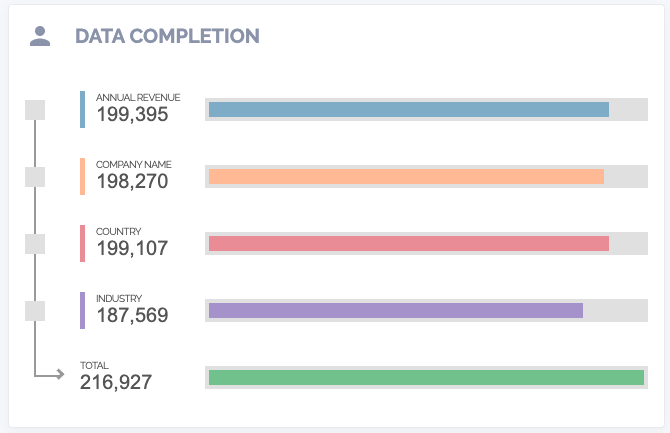 The Data Completion module allows the user to add additional fields to command to be tracked for data completion. These fields are selected and mapped by the user during account configuration. Command will display the number of records with data existing for each field.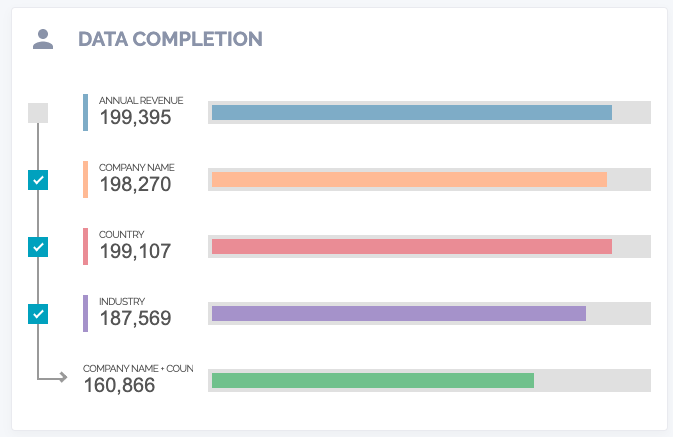 Selecting multiple fields allows the user to view the number of records with data existing for all selected fields. In this example, 160,866 Contacts exist that have data for Company Name, Country and Industry.
Market Fit

Market fit shows the number of contacts in your data segment compared to the total addressable market. These Market Fit filters will be added to each data segment by the user when creating a segment.
Market fit filters may be added to each custom data segment as well as the "All Data" Segment.
-Note: If the total market is displaying as 0, Market Fit data filters need to be added to the segment. For more information see Edit an Existing Segment below
For more detail on configuring Market Fit see the Market Fit Configuration below
Data Segments

Reporting is available at a segment-by-segment level in Command. Available segments will appear in the left hand menu. The segment highlighted in red denotes the selected segment.

Click on a segment to select and display the dashboard for a new segment.
Create a New Segment
On first login Command will only display reports for 'Total Data'. User's may narrow the scope of this reporting by importing pre-existing lists or data segments from the connected source.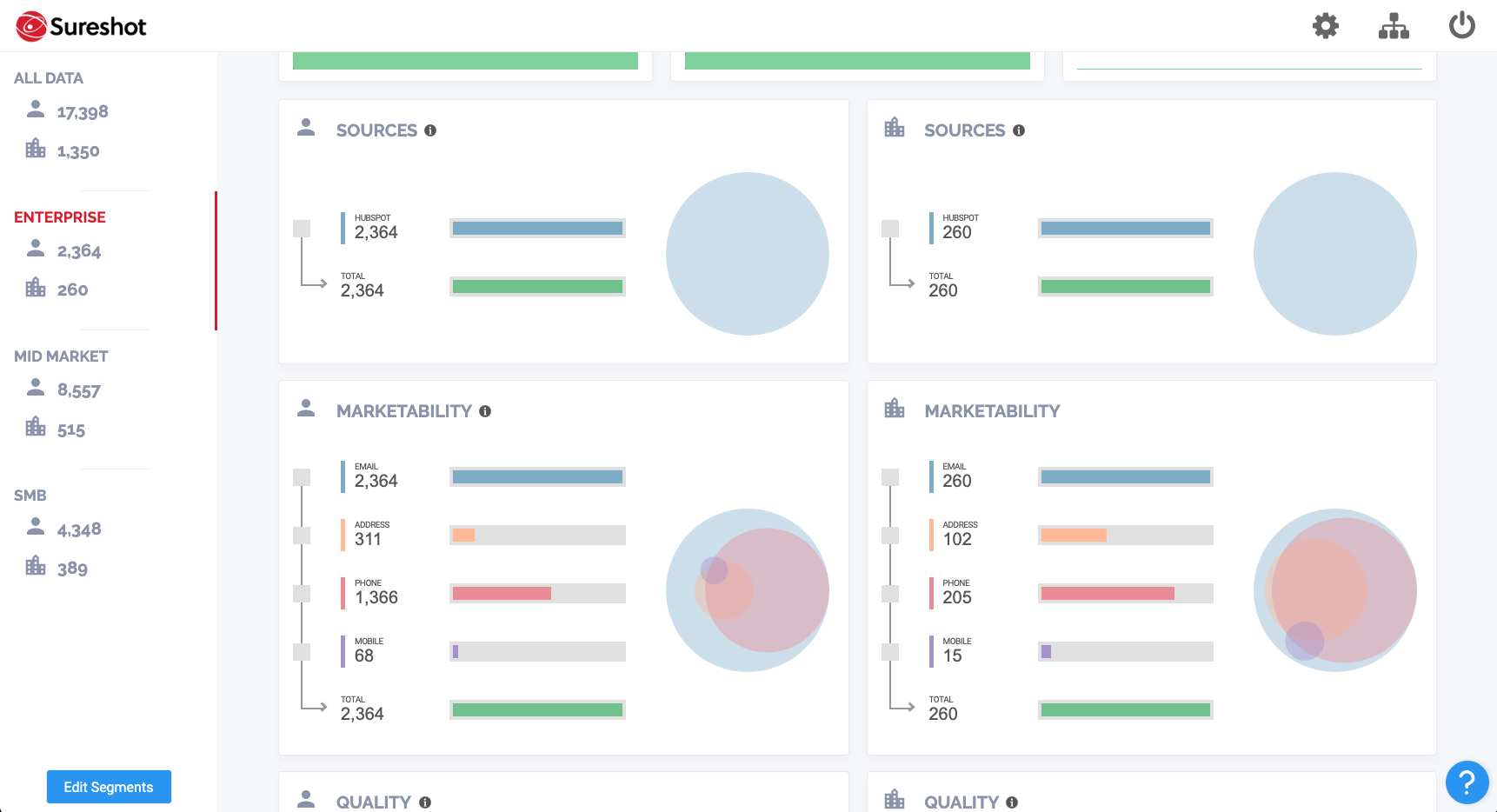 To create a new segment click at the bottom left of the page

Click the button now appearing at the bottom left of the page

Click on "New Segment" to name this new segment. The user may also add a description below.

Click the drop-down menu to select the source that will be used to create this segment. **Only Sources previously added during account configuration will display here


Once a source is selected Command will being to display available lists/segments from the connected source

The user may search for specific lists/segments using the search bar

Click on a list/segment name to select



Market Fit Configuration

Once a Segment is selected the user may apply market fit labels to the segment. These will be used to compare the users marketing segment against the known total market.
Note: Command assumes all members in the segment match the user-selected market fit labels


Use the drop-down menu's to add the correct market fit labels to the new segment

Click the button
To view the saved segment click at the top left of the page
Select the newly created segment on the left menu

Reporting will now be displayed for the newly created segment

Edit an Existing Segment
To edit existing segments and adjust market fit filters click at the bottom left of the page
Click on an existing segment to begin editing
-Note you may configure the All Data Segment from this page as well.

Apply any needed changes

Click the button
To view the updated segment click at the top left of the page